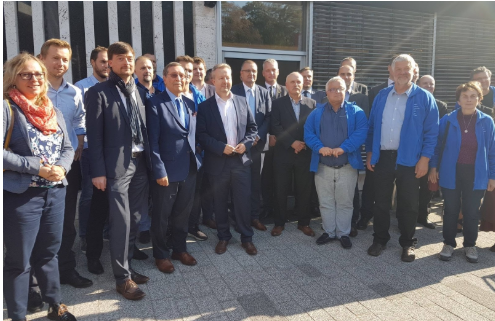 In October 2018, the e-Road Task "Analysis and modelling future e-mobility charging demand and location" completed its journey. Its aim was to calculate the  expected energy demand of e-mobility and to evaluate the results for the pilot route: Deggendorf-Pisek. On the one hand, the goal was to focus on the current charging infrastructure and demand for charging stations between the two cities and, on the other hand, to evaluate potential energy demand based on an enriched open source database.
Analyzing OpenStreetMap (OSM) to support Infrastructure Modeling
First of all, the team conducted an extensive literature research, addressing:
how open data is increasingly becoming a valuable alternative to private geodata;

the provision of an overview of rural e-mobility models and the possibilities to apply OSM data.
Secondly, the project initiated a data validation process for OSM data in the e-road region. The process entails regional statistics as well as the adaptation of OSM data for our modeling purposes, including more than 14000 entries and an in-depth analysis of three exemplary case studies, selected on the basis of a set of quality criteria and their proximity to the pilot route. The methodology will be published here and the results show the relevance of conducting studies to increase the use of OSM data for geographic modeling.
Pilot Route Evaluation
To test the real current e-mobility possibilities in the area, the e-rallye took place between the 10. and 11th of October 2018 with more than 40 participants. The more than 1000 km long route started in Munich and went via Deggendorf, Pisek, Prague and Brno to Ostrava.
E-Wald, as well as the Deggendorf Institute of Technology were both part of the rallye to represent the e-Road project and for cases that a car would not be able to travel as far as needed, E-Wald provided portable charging stations for intermediate charging events.
During the trip, it  was only necessary to recharge one electric vehicle in Hartmanice, a small village that is located between Deggendorf and Pisek, which shows that the charging stations that will be established during the eRoad project in the upcoming weeks are well placed. Charging stations will be established in Volyne and Horni Vltavice.
The project eRoad is considered as being the only project between Czech Republic and Germany for now that tries to establish a cross border charging infrastructure. The results of the e-rallye show, that the establishment of charging stations especially in the border region, is of essential importance and that the connection will be ready for the future after the charging stations are established.
For more impressions of the e-rallye Munich-Ostrava you can watch the video (only in Czech).
https://go-eroad.eu/wp-content/uploads/2019/02/Blog.png
321
495
Pavla Brodacká
https://go-eroad.eu/wp-content/uploads/2017/05/nové-logo-e-Road-zelené_nobg-300x78.png
Pavla Brodacká
2019-02-01 08:48:30
2019-02-01 08:48:30
Pilot Route Evaluation and Data Presentation