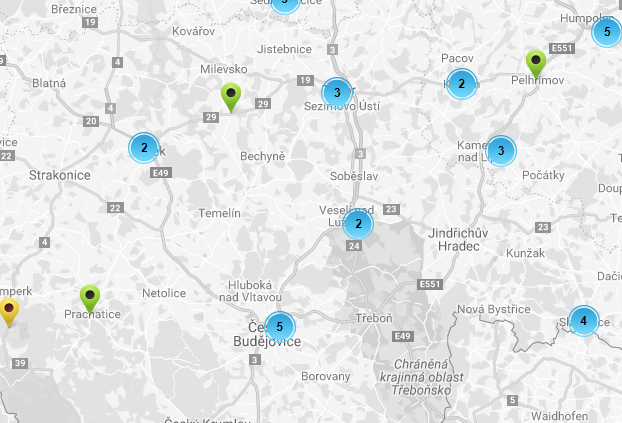 The e-Road project focused in one of its first analyses on the evaluation of the current state of e-mobility and its infrastructure in the joined regions – Southern Bohemia and East Bavaria. The results show that the public support and knowledge significantly differ in the regions.
Electric Vehicles
Ïn Southern Bohemia the purchase of an electric vehicle is more of an exception rather than a rule. Big energy providers strive to spark the interest for e-cars by forming partnerships through which they rent these vehicles to various organizations. There was interest for this kind of projects but still an electric car remains something exceptional on the roads in Southern Bohemia. This attitude stems from the priorities and goals of the public administration, but also the public. This is why for example in East Bavaria there are more organizations using electric vehicles. E-Mobility is one of the priorities for the future development of the region.
However, if we focus on electric bikes and scooters, these have been far more successful than their four-wheeled relatives. In the cross-border region of Sumava a project took place that supported the rental of these vehicles to the tourists visiting the region. It is clear that e-mobility itself is not an issue because electric bikes are becoming more common on the roads. This is aligned with the market supply which provides a variety of models.
Electric Public Transportation
National subsidy programs are currently focused on the purchase of low-emission or no-emission public transportation vehicles. One of the successful applicants in the IROP program in Southern Bohemia is Budweis which clearly counts on having electricity in the future public transportation thanks to its purchase of electric buses. Pisek, which is a part of the e-Road project, does not lag behind. The Clean Mobility initiative counts with electric engines not only in buses, but also vehicles used in organizations run by the city.
Charging Infrastructure
It is clear that European and national subsidies count on a massive development of the charging infrastructure in the near future. Currently, there are tens of charging points in Southern Bohemia and hundreds in Eastern Bavaria.
Current State of E-Mobility Evaluation
From the historical development and current state it is clear that Eastern Bavaria puts far more emphasis on the development of e-mobility. It can be seen not only from the activities of private subjects and the public, but also from the projects that have taken or are still taking place in the region. In Southern Bohemia electric mobility is still more of an item of a few selected, but this state is slowly beginning to change, so it is slowly coming from the private sector into the public light.
https://go-eroad.eu/wp-content/uploads/2019/02/Výstřižek.png
541
622
Pavla Brodacká
https://go-eroad.eu/wp-content/uploads/2017/05/nové-logo-e-Road-zelené_nobg-300x78.png
Pavla Brodacká
2019-02-08 09:51:31
2019-03-12 09:48:11
Current E-Mobility State